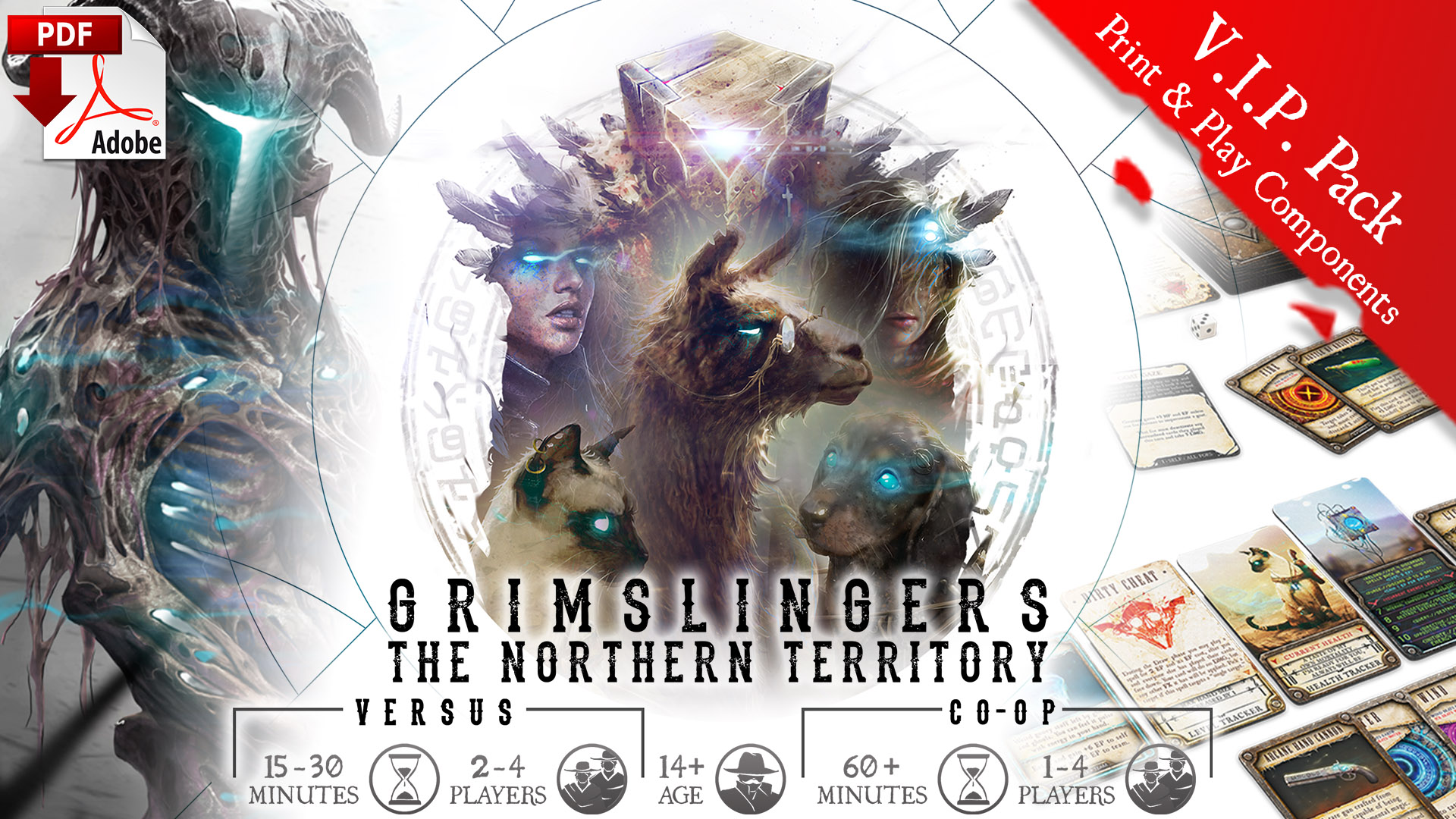 Grimslingers: The Northern Territory (GNEGS17-Print & Play)
A downloadable game for Windows
A weird-western card dueling game for 2-6 players that doubles as an RPG-like, campaign driven, solo / co-op for 1-4 players.

Grimslingers

In a land beyond God's reckonin' is a place called the Forgotten West. The Iron Witch, a downright mysterious bein', has turned you into a Grimslinger, a powerful witch imbued with metal, machine and fancy elemental powers. Now yer maker's requirin' all his newly sired to duel each other so that he can make y'all into witches proper for his own purposes.".

Grimslingers is a strategic, sci-fi fantasy western themed card game, featuring two different modes of play. In versus, players will go head to head in teams or a free-for-all using a wide selection of spells, items and abilities. In co-op, players will work together through a narrative campaign composed of four 60-90 minute play sessions, battling strange creatures, overcoming intense challenges, collecting loot, gaining levels and exploring tThe Forgotten West.
Grimslingers: The Northern Territory (Expansion)

The Northern Territory contains some of the Forgotten Wests' strangest and most prolific spectacles, secrets and adventures. Resist the siren songs of the Red Maidens as you traverse the treacherous paths of the Red River. Brave the unforgiving cavernous interiors of the border wall known as Gates of Hell. Help or hinder newcomers to the Forgotten West in The Northern Outskirts. Delve into the cryptid creature filled depths of The Down Under and uncover ancient secrets in The Great Deep. Explore the Valley of Death anew, and more as you set out into the Northern Territory.

Grimslingers: The Northern Territory is an expansion to the Grimslingers core game, which refines and redefines all aspects of the game, while adding more of what players love. Better and deeper player versus player gameplay, along with a plethora of new solo/co-op content for players to delve into for many hours.

Download Contains:
Printable PDF's for Grimslingers Core Game (Rules, Cards, Accessories)
Printable PDF's for Grimslingers Northern Territory Expansion (Rules, Cards, Accessories)
PSD files for new card creation.
Executable for High Moon App (Pre Card Game concept game)
Purchase
In order to download this game you must purchase it at or above the minimum price of $10 USD. You will get access to the following files:
GS17_GrimslingersNT-VIP-Pack_2018-04-16.zip
196 MB
Download demo